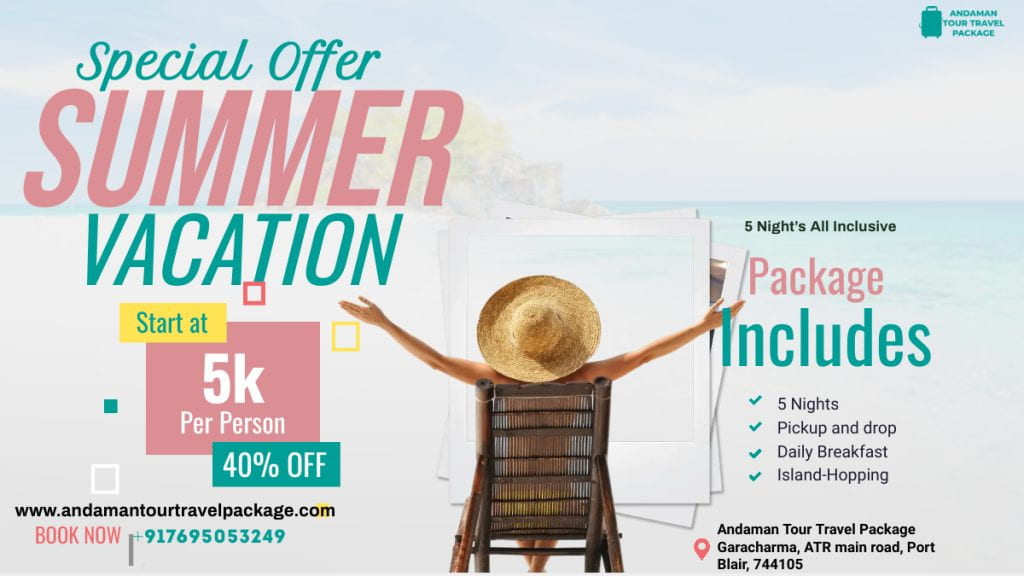 April is the perfect month to explore the Andaman Islands, located in the Bay of Bengal. The islands offer a perfect tropical paradise with beautiful beaches, stunning coral reefs, and lush green forests. The weather in April is perfect for outdoor activities, making it an ideal time to visit. Here's everything you need to know about exploring Andaman's paradise in April, tour packages, and insights for the perfect vacation.
Tour Packages for Exploring Andaman's Paradise in April:
There are various tour packages available for exploring Andaman's paradise in April. These packages are tailored to cater to the needs of different kinds of travelers. Here are some popular Andaman tour packages that you can choose from:
Adventure Tour Packages: This package is ideal for adventure enthusiasts who want to explore the island's natural beauty. It includes activities like trekking, camping, and kayaking. You'll get to witness the stunning flora and fauna of the islands up close.
Beach Tour Packages: This package is ideal for beach lovers who want to relax and unwind on the beautiful beaches of Andaman. It includes activities like beach hopping, sunbathing, and beach volleyball. You'll get to experience the serenity and tranquility of the Andaman beaches.
Wildlife Tour Packages: This package is ideal for nature lovers who want to explore the island's wildlife. It includes activities like bird watching, jungle trekking, and wildlife safaris. You'll get to witness exotic species like Andaman wild pigs, macaques, and spotted deer.
Insights for the Perfect Vacation:
Here are some insights that will help you plan your perfect Andaman vacation in April:
Weather: The weather in Andaman during April is pleasant with occasional rain showers. The temperature ranges from 25°C to 30°C, so make sure to carry light clothes and sunscreen.
Accommodation: As April is peak tourist season, it's advisable to book your accommodations in advance to avoid any last-minute hassles. You can choose from luxury resorts to budget-friendly homestays, depending on your preference and budget.
Island Hopping: Andaman has several beautiful islands that you can explore. April is perfect for island hopping as the weather is ideal for it. You can visit popular islands like Ross Island, Neil Island, and Havelock Island.
Water activities: April is ideal for water activities like scuba diving, snorkeling, and sea walking. The water temperature is perfect for these activities, and you'll get to witness the island's stunning marine life up close.
Local festivals: April is the month of Bihu, the harvest festival in Andaman. You can witness the local traditions and culture during this festival and learn more about the island's history.
Conclusion:
The Andaman Islands are an ideal destination for exploring paradise in April, with its beautiful beaches, water sports activities, and lush green forests. Whether you're a solo traveler, a family, or a group of friends, there's something for everyone in Andaman. So, plan your trip during the month of April and explore the tropical paradise of Andaman.
If you are looking to enjoy the best holidays then you should visit the Andaman & Nicobar Islands for the amazing beauty they offer. Serene beaches, mesmerizing aquatic life, dazzling corals, intriguing colonial past and immense tropical charm, make Andaman & Nicobar Islands an ideal place for refreshing and exciting holiday.Plan your perfect getaway to Andaman with our exclusive Andanam tour packages. Book now and experience the surreal beauty of Andaman with ease and comfort.For more information you can visit our website andamantourtravelpackage.com or call us at +917695053249.