Musical Instruments Industry Data Book Covers Stringed, Percussion, Wind, and Keyboard Instruments Market
The global Musical Instruments industry was estimated at USD 14,117.9 million in 2022 and is anticipated to increase at a significant CAGR of 7.3% from 2023 to 2030.
Grand View Research's musical instruments industry data book is a collection of market sizing information & forecasts, trade data, pricing intelligence, competitive benchmarking analyses, macro-environmental analyses, and regulatory & technological framework studies. Within the purview of the database, such information is systematically analyzed and provided in the form of outlook reports (1 detailed sectoral outlook report) and summary presentations on individual areas of research.
Stringed Instruments Market Insights
The global Stringed Instruments Market size was valued at USD 8,958.3 million in 2022 and is expected to expand at a compound annual growth rate (CAGR) of 7.4% from 2023 to 2030. The stringed instruments market held the largest market share in the overall musical instruments market. This growth is primarily driven by the increased sales of electric guitars. Electric guitars have gained immense popularity among musicians and enthusiasts for their distinct and versatile sound, well-suited for various music genres such as rock, pop, blues, and jazz. The unique tonal characteristics and the ability to manipulate sound using effects pedals and amplifiers have made electric guitars essential in modern music production. These factors have significantly contributed to the sales of electric guitars, thereby driving the overall stringed instruments market's growth.
Stringed instruments offer a wide range of tonal possibilities and can be used in various music genres and styles, from classical to rock, folk to jazz. Guitars, violins, cellos, and ukuleles are found in diverse musical landscapes. Their versatility attracts musicians from different backgrounds, expanding the market reach of these instruments and driving growth.
Moreover, technological advancements have played a significant role in the growth of stringed instruments. Innovations in manufacturing processes, materials, and instrument design have improved the quality, playability, and durability of these instruments. Additionally, advancements in amplification and sound processing technologies have enhanced the capabilities and versatility of electric and acoustic-electric stringed instruments, making them more appealing to a broader range of musicians.
For example, Wood Violins, a renowned manufacturer of electric violins, unveiled the new Viper Classic at the National Association of Music Merchants in 2022. The Viper Classic is available in 4-string and 5-string fretless models, featuring a wood Tru-Tone piezo pickup with a transducer in the bridge. It also includes a first-position heel, which benefits players who are just starting out on the electric violin.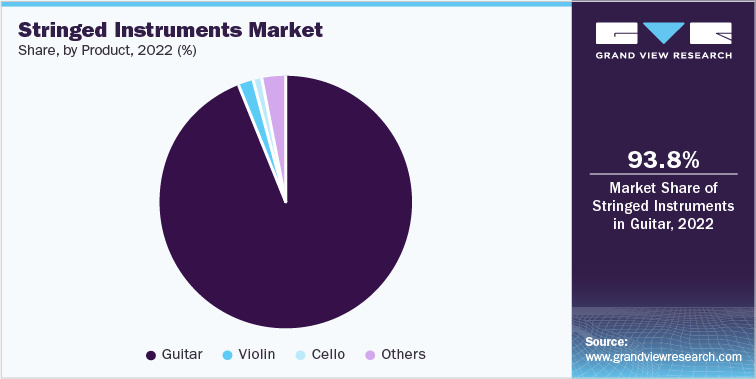 Order your copy of the Free Sample of "Musical Instruments Industry Data Book – Stringed, Percussion, Wind and Keyboard Instruments Market Size, Share, Trends Analysis, And Segment Forecasts, 2023 – 2030" Data Book, published by Grand View Research
Keyboard Instruments Market Insights
The global Keyboard Instruments Market size was valued at USD 2,843.5 million in 2022 and will grow at a compound annual growth rate (CAGR) of 7.5% from 2023 to 2030. Advancements in technology have revolutionized the keyboard instruments market. Digital keyboards now offer a wide range of features, including realistic piano sounds, multiple instrument voices, recording capabilities, and built-in learning tools. These technological advancements have made keyboards more accessible and appealing to beginners and professionals alike, contributing to market growth.
For instance, in January 2023, Yamaha, the world's largest manufacturer of musical instruments, announced the launch of the P-S500, a digital piano designed for beginners. The new P-S500 is equipped with Stream Lights technology, which uses red and blue lights above each key to visually guide the pianist on which notes to play and when to play them. Additionally, the P-S500 pairs with the Smart Pianist app, providing users with a seamless connection to a smart device and granting full access to instrument controls and configuration tools.
The availability of learning resources and educational programs has contributed to the increased demand for keyboard instruments. Many music schools and online platforms offer comprehensive courses and tutorials tailored for beginners, making it easier for aspiring musicians to start their learning with keyboards. Additionally, music stores often organize workshops and demo sessions to engage potential buyers and assist them in making informed decisions about their instrument purchase, thereby driving the keyboard instruments market. For instance, in April 2022, the National Keyboard Studies Programme announced an initiative that offers school children in the UK the opportunity to learn melodica. This program aims to provide low-cost music education to children by utilizing this inexpensive and low-maintenance instrument.
Go through the table of content of Musical Instruments Industry Data Book to get a better understanding of the Coverage & Scope of the study
Musical Instruments Industry Data Book Competitive Landscape
The manufacturers in the musical instruments market aim to achieve optimum business growth and a strong market position through the implementation of various strategies such as acquisitions, new product launches, collaborations, and strengthening of distribution networks in the global as well as regional markets. Musical instrument manufacturers aim to strengthen their market positions by expanding their customer base through diversification of their product portfolios and incorporating a wide range of musical instruments. Thus, the players are aiming to achieve business growth in the regional market through product launches, mergers, acquisitions, and other strategic initiatives.
Key players operating in the Musical Instruments Industry are:
Casio Computer Co., Ltd.
F. Martin & Co., Inc.
D'addario & Company, Inc.
Eastman Music Company
Fender Musical Instruments Corporation
Check out more Industry Data Books, published by Grand View Research
About Grand View Research
Grand View Research, U.S.-based market research and consulting company, provides syndicated as well as customized research reports and consulting services. Registered in California and headquartered in San Francisco, the company comprises over 425 analysts and consultants, adding more than 1200 market research reports to its vast database each year. These reports offer in-depth analysis on 46 industries across 25 major countries worldwide. With the help of an interactive market intelligence platform, Grand View Research helps Fortune 500 companies and renowned academic institutes understand the global and regional business environment and gauge the opportunities that lie ahead.
Contact:
Sherry James
Corporate Sales Specialist, USA
Grand View Research, Inc.
Phone: 1-415-349-0058
Toll Free: 1-888-202-9519
Email: sales@grandviewresearch.com
Web: https://www.grandviewresearch.com/sector-reports-list
Follow Us: LinkedIn | Twitter